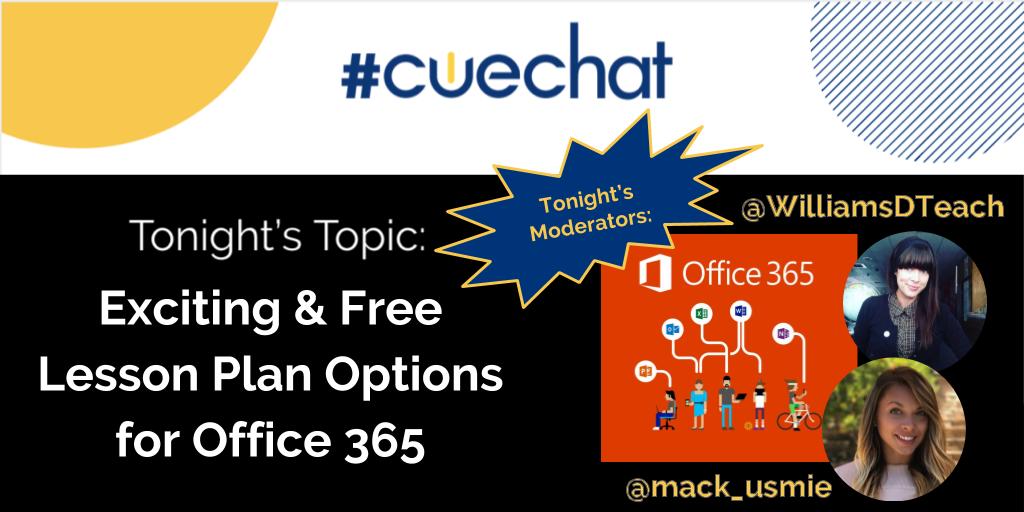 The #CUEchat of November 14th was focused around Microsoft's education tools and exciting and free lesson plan options for Office 360. It was moderated by Microsoft consultants Mallory Mack and Daphne Williams, who led participants in a tour of what Office can do. As a classroom teacher who uses Google almost exclusively (it's what my district gives me, and I like what it can do), it's interesting to see Microsoft working hard to get a piece of the edu-pie. This isn't a bad thing. Much like in our classrooms, more options are better.
The tool that stood out to me and to most of the chat participants is called OneNote.
So … I have to ask. What features makes OneNote better for student learning? #cuechat

— Matt Gehrett, Ed. D. (@Gehrett) November 15, 2017
Matt is coming from the right direction. The tool itself doesn't matter, only being good for student learning matters. Emilie Winser responded that it allows students to work collaboratively on a document, while the teacher also watches and gives real-time feedback.
Having students & teachers both be able to view a notebook is awesome. I love the live view, no waiting until student has submitted the assignment- you can see the work in progress. Feedback is instant.

— Emilie Wisner (@EmilieWisner) November 15, 2017
Assuming the teacher is in the classroom with the students, this means even more choices for interacting with student learning- from your desk or while moving about the room. Choice is good. Daphne added that students can do more than type onto each other's documents.
Learning tools, and a variety of different ways students can express their answers. They can type, draw, embed an audio answer, etc 🙂

— Daphne Williams (@WilliamsDTeach) November 15, 2017

Differentiation like that is key to reaching all of our kids no matter their level. It's nice to see technology supporting all learners and their specific needs.
It sounds like OneNote is something to look into, especially if that other big edtech player isn't an option in your school or district.